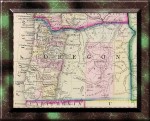 Oregon county boundaries have changed from 1843 to the present. This section contains a list of maps showing the evolution of counties for the Oregon Territory and, after 1859, the State of Oregon. Maps are courtesy of the Oregon Historic Society.
Oregon Map Reprinted from Mitchell's New General Atlas – 1865
Grateful acknowledgement is made to the Oregon Historical Society for making these maps and to Glenn Harrison, of the Linn County Historical Society who made them available for inclusion in our site.