The Malo Family – From Quebec to Albany
I was researching in the State Archives when I came across a 1895 census with a Malo family. As a Malo family researcher I was a bit astonished to find a Malo family in Oregon. Most Malos that immigrated to America from Quebec went to New England. I just had to figure out who this family was and trace it back to Quebec. What I found out surprised me. Eugene Malo settled on the French Prairie in the Willamette Valley prior to the pioneers coming across the Oregon Trail.
The original European settlement on the French Prairie was populated by French Canadians and Metis people from Quebec and the Red River Valley. While America was busy with the War of 1812 back east, the Northwest Company brought the settlers from Canada to the Willamette Valley as fur trappers. By 1821 the Hudson Bay Company (HBC) absorbed the Northwest Company. If you had ancestors that lived in the French Prairie community, you may find records about them in the Manitoba archives as the HBC donated their records to the province of Manitoba. These brave and industrious settlers paved the way for the pioneers. To know more about the French Prairie visit the website of the St. Paul Mission Historical Society.
Why Eugene Malo came to Oregon is still a mystery to me. Maybe if I dig a bit deeper I will find out. What I do know is that he is my 5th cousin. Genealogical records indicate that he first arrived in Oregon at the age of 17 in 1876, he is back with his family in Quebec in 1881, he arrived in Oregon again in 1882 at the age of 22 and also in 1888 at the age of 29. He married Eulalie Foisy, who was born on the French Prairie, daughter of Medard Godard Foisy b. 1816 in Quebec d. 1880 on the French Prairie, and Marie Anne Delard 1833 – 1908, born and died on the French Prairie. Eugene and Eulalie had nine children, one of which, Alfred Bernard Malo, settled in Albany, and is buried there.
Line of descendancy from Gilles Hayet b. and d. in France, perhaps in the area of St Malo, to Alfred Bernard Malo
1-Gilles Hayet (1610 – ?)
+Jeanne Héreault (1615 – 1669)
. . . . 2-Jean Hayet dit St. Malo (1639 – 1721)
. . . . +Catherine Galbrun (1667 – 1744)
. . . . . . . . 3-Louis Hayet dit St Malo (1691 – 1770)
. . . . . . . . +Marie Madeleine Emery dit Coderre (1698 – 1753)
. . . . . . . . . . . . 4-Michel Ayet Malo (1733 – 1791)
. . . . . . . . . . . . +Marie Cecile Petit (1737 – 1771)
. . . . . . . . . . . . . . . . 5-Joseph Ayet Malo (abt. 1766 – 1849)
. . . . . . . . . . . . . . . . +Rose Mabriand (1762 – 1842)
. . . . . . . . . . . . . . . . . . . . 6-Joseph Ayet Malo (16 Aug. 1791 – 7 March 1857)
. . . . . . . . . . . . . . . . . . . . +Marie-Anne Gravel (21 July 1801 -)
. . . . . . . . . . . . . . . . . . . . . . . . 7-Jean Baptiste Malo (abt 1828 – 8 Dec. 1906)
. . . . . . . . . . . . . . . . . . . . . . . . +Délima Pelletier (15 July 1836 – 26 Oct. 1867)
. . . . . . . . . . . . . . . . . . . . . . . . . . . . 8-Eugene Malo (1859 – 6 January 1920)
. . . . . . . . . . . . . . . . . . . . . . .. . . . . .+Eulalie Foisy (1866 – 1939)
. . . . . . . . . . . . . . . . . . . . . .. . . . . …..9-Alfred Bernard Malo (1891 – 1944)
. . . . . . . . . . . . . . . . . …… . . . .. . . . . .+Marvel Pettit (1899 -?)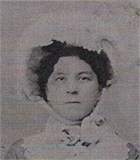 Eulalie Foisy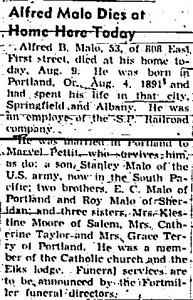 Alfred Malo Obitutary